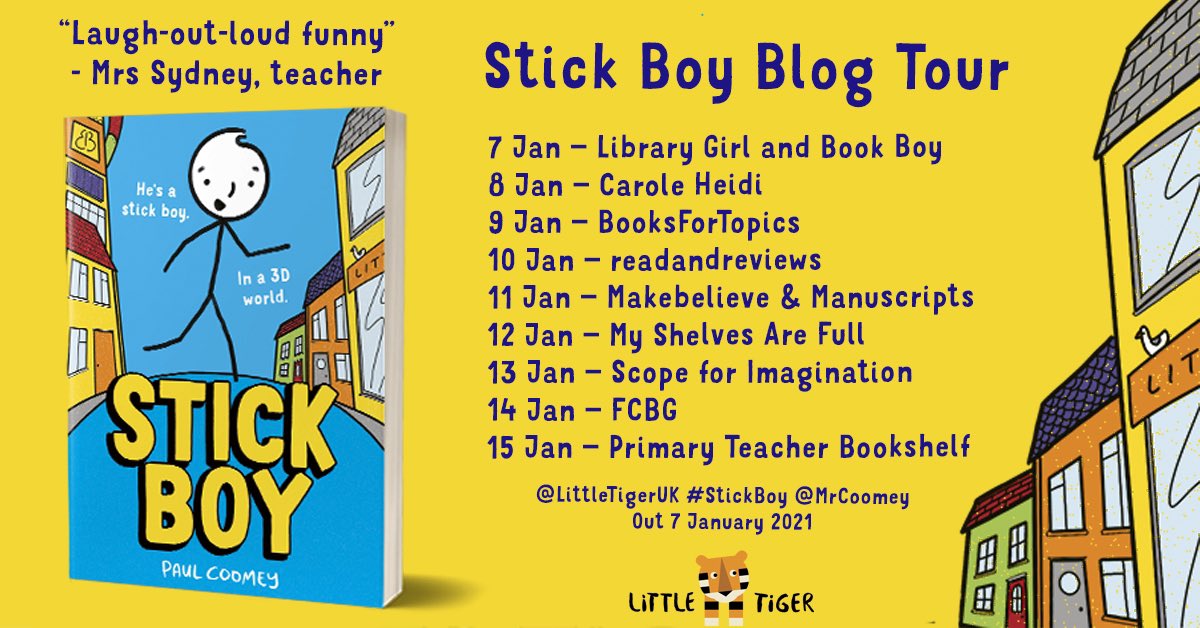 Paul Coomey was born in Cork, where his mother taught him to read in 1982. His favourite book that year was Green Eggs and Ham by Dr. Seuss, and he hasn't stopped reading since. He learned to write creatively at Kilmurray National School, where he was the only student to ever achieve a mark of 9/10 for an essay, awarded by Headmaster Der Hartnett for a story about a wolf in the snow.When he isn't writing and illustrating books, Paul works as an Art Director at a brilliant little company called Wonderbly, and sometimes does workshops and portfolio reviews at UCL and AUB and with the AOI and SCBWI. He lives in London with his wife Tanvi Kant, and in his spare time his favourite things to do are read comics and go to the sea.
Read on for an exciting insight into the illustrations of Stick Boy!
The style of the illustrations in Stick Boy is influenced by the kinds of comics that I loved to read as a kid (and that I still love to read!). I loved the Beano, the Dandy, Eagle, BIG Comic (which was 40p and came out very two weeks and was made up of lots of bits of other comics) but my absolute favourite was Asterix.
I loved the stories – Asterix was able to take on the mighty and ridiculous bad guys with a bit of help from his from his friends (a bit like Stick!) – but I loved the art too – noisy, expressive characters that were not very realistic, big sound effects, maps, different typefaces, little panels of information, more maps, visual effects like whooshes and and explosions and stars… all of these things drew me into Asterix's world and kept me hooked right to the end of the adventure. I think this had a big influence on my style – how the things on the page that aren't the words help to tell the story.
I chose to keep the characters simple so that Stick could kind-of fit in with the world – all the characters have regular black outlines with single, flat colours inside the lines with just a bit of shading and no highlights or texture, in a comic style. The colours in the book are limited too, like in old comics – I think there are twelve or thirteen in total used in the book, and all of the buildings use the same colours. I wasn't going to use purple at all but then Alannah showed up.
I also like that this is a style that is easy to do. Here's a step-by-step guide to doing it yourself – how to draw yourself in Stick's world.